Decision 2018 – JMC Analytics and Polling's 9/27 US Senate scorecard – The Road To 51
Now that election season is here, JMC Analytics and Polling is focusing on how House, Senate, and Governor's races are going. Recently, US House races were analyzed. This article will focus on the Senate races.
Background
Theoretically, this should be a good year for GOP Senate candidates, given that Democrats have had an lengthy string of good luck with this Senate re-election class which (with the exception of the 1994 GOP landslide) has remained staunchly Democratic since 1958 (a Democratic landslide year). More specifically, this "lucky Democratic class" consists of 26 Democratic/9 Republican-held seats up for re-election. In any normal year, Republicans should net a few additional seats. This year, with a much less favorable electoral climate, recent polling has not been very friendly to Republicans, and control of the US Senate is actually in play.
Just like the House ratings, JMC will use publicly available polling published on RealClearPolitics to assess each Senate race. Unlike the House, however, there is typically much more polling data available for individual Senate races. And to properly present this analysis, JMC is bringing back (from the 2016/4/2/10 election cycles) its Scorecard. Here's how data for is collected/analyzed:
Scorecard Criteria
Given that this is the first Scorecard JMC has done this election cycle, polling data for all Senate races has been compiled all the way back to September 1 and averaged (this "look back" will eventually become two weeks, then one week when as we get closer to Election Day). Once the averages are obtained, here is how JMC rates each race:
(1)   Safe Democratic or safe Republican (dark blue/red) – A candidate either has a polling average of at least 50% and/or a 10-point lead in the polls;
(2)   Lean Democratic or lean Republican (light blue/red) – A candidate has a 3-9 point lead in the polls;
(3)   Tossup (yellow) – A candidate's lead is less than 3 points in the polls;
Given those criteria, this is the "state of the nation" as of the writing of this article:
Aggregate Dashboard statistics
Trump job approval: 53-44% Disapprove
Congressional job approval: 69-17% Disapprove
Generic congressional vote:  48-40% Democratic
Direction of country: 53-41% wrong direction
Senate race statistics
Current: 51 Republicans, 49 Democrats (technically, two of the Democrats are Independents who caucus with them)
Polling average: 48 Republicans, 44 Democrats, 8 Tossups (3 Republican seats, 5 Democratic seats)
Commentary: While the atmosphere is not favorable for Republicans, Democrats have the more difficult task in that they MUST pick off at least two races among the trifecta of Arizona, Nevada, and Tennessee (unless they can make further gains in Texas), while simultaneously protecting their incumbents – 5 of whom are in tight races. As of this writing, it will be interesting to see which party's base is more fired up by the Kavanaugh hearings – it will likely become apparent in next week's polling which direction voters are moving.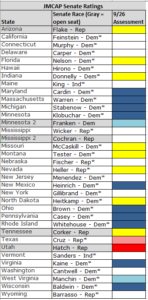 Upcoming Events
As this article is being written, absentee ballots are being sent out and returned. The best available estimate shows that 7,300 votes in several states have already been been returned and counted. Things will really ramp up in just over a week, as additional states start to allow in person early voting in addition to mail in/absentee voting (early voting in Louisiana doesn't begin until October 23)